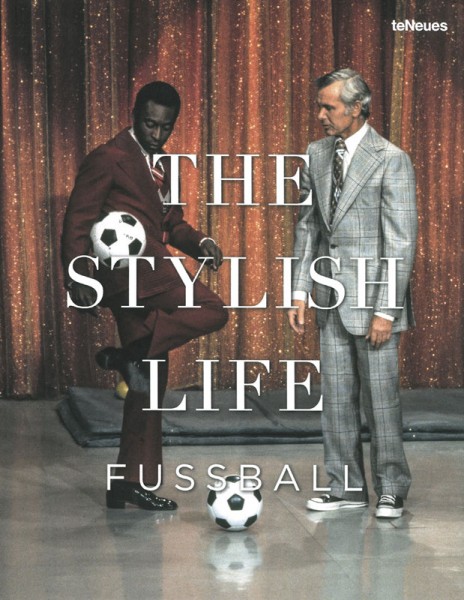 Order number:

S22626

Department:

Bookshop

Condition:

new
The Stylish Life Fußball Sorry, no english description is available. --- Die Synthese aus...
more

The Stylish Life Fußball
Sorry, no english description is available. --- Die Synthese aus Fußball und Lifestyle ein Buch, das nicht nur Fußballfans begeistert Alles drin: von Mode (Trikots und Tattoos) über Architektur (Fußballtempel und Fußballervillen) bis Boulevard (VIPs und WAGs). Was haben die Gallagher-Brüder von Oasis und Franz Beckenbauer, Albert Camus und Diego Maradona, Elton John und David Beckham gemeinsam? Sie alle sind Grenzgänger zwischen dem Fußball und der Hoch- bzw. Popkultur. Sie sind fußballbegeisterte Popmusiker oder singende Fußballer, Fußball spielende Literaturnobelpreisträger oder Bu cher schreibende Fußballer, Popstars, die einen Fußballverein übernehmen, oder Fußballer, die Popstars werden (und einen Fußballverein u bernehmen wollen). Sie füllen das von modernen Trainern so arg strapazierte Wort Spielkultur mit Leben. Und sorgen gleichsam dafür, dass der Fußball sich für breitere Massen öffnet. Fußball ist weit mehr als 11 gegen 11 und das Runde muss ins Eckige. Fußball wird auf der großen Leinwand gespielt, man denke nur an Stephen Frears Fish & Chips oder Flucht oder Sieg mit Michael Caine, Sylvester Stallone und Pelé. Er wird in hunderten Büchern beschrieben, in hunderten Songs besungen. Da ist es nur logisch, dass wir uns in unserer neuen Reihe The Stylish Life auch dem Fußball widmen. Den modischen Kapriolen der Kicker auf und neben dem Platz, dem Cristiano Ronaldo-haften des Fußballs, dem Rock'n'Roll und dem Glamour.(DEUTSCH/FRANZÖSISCH) 176 Seiten, 23x29 cm, Pappband, ca. 200 meist farbige Fotos, teNeues Verlag, Kempen 2015.
Related links to "The Stylish Life Fußball"