Authenticity guarantees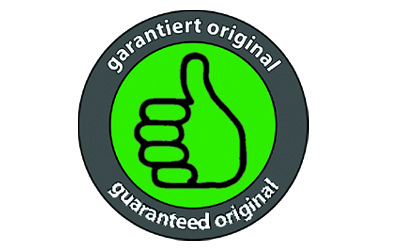 AGON Certificates of Authenticity
Upward from a unit price of 200.- € we provide a free CoA for items from the departments "Collector's Highlights" and all "Match Worn Shirts" (exempted are books). On demand we will provide CoAs for items of less than 200.- € worth as well. In that case we charge a fee of 12.- € for each certificate.
All memorabilias are tested by 2 specialists and experts regarding their genuineness. If authenticity can doubtlessly be confirmed, we offer the item with a COA for the buyer.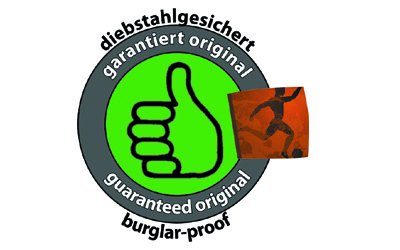 Money-Back Guarantees
In addition to the CoA we are giving a lifelong money-back guarantee on match-worn shirts, (upward from 200,-€), high-value tickets (upward from 400,-€), Olympic torches as well as winner medals in Olympic Games and in football world championships, in case the purchased item should turn out convincingly to be fraud. Aside from that we will apply an invisible, forgery-proof and material-compatible mark (artificial DNA) that can only be identified with a special scanner by us or by the police. Then the buyer and the purchased item will be put on permanent record in our computer files. This way you get a maximum in protection against theft.
The mark is applied in such a manner that it stays conserved when the collector handles it with care. But do not wash marked fabric. When cleaning hard materials like torches, cups or medals– especially when using cleaning fluids -, please touch only visible and outside surfaces. The identification mark has been applied on inconspicuous and inaccessible parts of the item. This mark is fraud resistant and only on such marked collector items do we give our money-back-guarantee.
Buyers of items which have been given a certificate of authenticity are offered a livelong money-back-guarantee on the objective criteria* of the item. This guarantee applies to our buyers and our goods only. The guarantee can be made use of in case the buyer can proof without any doubt that a shirt that the item they bought as a fake.
* = This AGON authenticity guarantee relates only to the objective criteria of a memorabilia like material, fabrication, workmanship, imprints (e.g. match prints on a football shirt) etc. All subjective criteria (e.g. match, provenance, third hand etc.) are stated to the best of our knowledge and refer to the level of knowledge at the day of survey.